One of Lightroom's main strengths is helping photographers apply the same settings across a batch of photos. One of the things I like to do in my workflow is rate everything as 3 Stars from the beginning, and then during my editing process I move them away from this "neutral" rating (with 1-Star indicating it's not worth keeping, and 5-Stars meaning it's a winner). I was never quite comfortable with leaving photos at Zero Stars because then they get left out when I am filtering by Rating. While I'm at it, another setting that would be useful to apply to all photos right from the start is my copyright metadata. So rather than performing this operation for each photo, let's set it up in Lightroom to do the heavy lifting for us.
First, you need to create the Metadata Preset which defines what settings you want to apply. For example, I need a preset that will always set the Rating to 3 and also add my copyright info. You can edit or create a new Preset in the Library mode under the Metadata section on the right side and selecting Edit Presets.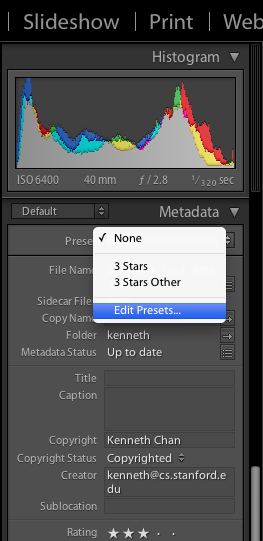 A dialog box pops up and now you need to define and save your preset. For example, I added my default Rating and Copyright info. When you're ready, click Done and you'll be asked whether you want to save this new preset. Give it a descriptive name.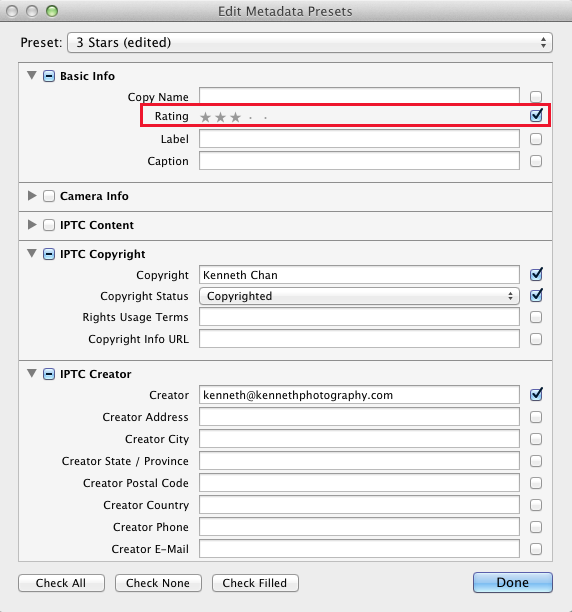 Now you can select this Preset to easily add the setting you need a large batches of photos at once in the Library mode. You can also add this preset during File > Import Photos and Video. Just select the preset under the Apply During Import section of the Import dialog box. In fact, the next time you come back to Import, that Preset will probably be preloaded for you, saving yet another step (but be careful if that's not what you want)!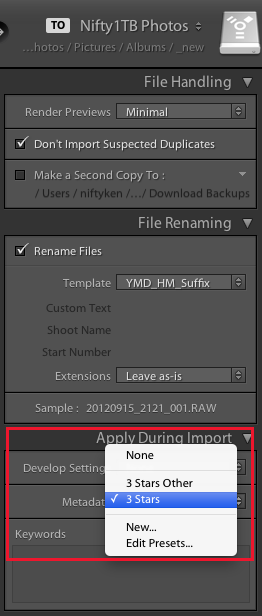 That's all there is to it! If your preset is not quite the way you want it, remember that you can always go back to edit the preset. But if you need the updates on your older photos, you'll have to reapply the modified preset to them again for it to have an effect.
Hope that helps speed up your Lightroom workflow as it has for me. Happy editing!
[sc:ask]