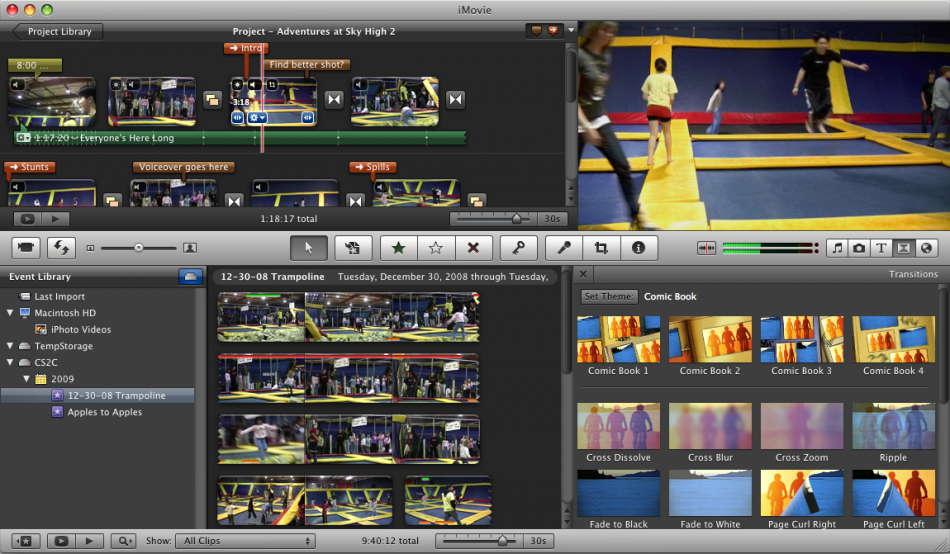 I've had an influx of questions regarding iMovie lately, so I thought I'd go ahead and share some of my favorite resources on the topic. These tips are meant to give potential iMovie users an overview of the resources and tools inside and outside of iMovie, so that you can leverage them to save time and improve your craft. Browse through the article, take what you need, and hang onto it so you can look up the references again when you need them.
My first tip is that anyone still using iMovie '08 (also known as version 7) really should spend the money to upgrade to iLife '09 at the campus bookstore or Amazon.com. iMovie '06 was very usable, but iMovie '08 was a half-baked product that caused endless headaches for our staff and tears of frustration for many new and old users alike. I was so thrilled when Apple fixed and improved nearly everything by releasing iMovie '09. It is now such a deep and powerful application that I've been able to recommend it for most users looking to edit video. (The followup tip for all upgraders is that you really, really should get the multiple Apple Software Updates for your computer after installing iMovie '09 for the best experience.)
I've found the video tutorials at http://www.apple.com/ilife/tutorials/#imovie to be fantastic for learning parts of iMovie 09, and I make reference to the videos I think are most critical for a quick start for the Multimedia Production class I teach at Stanford. Here's my list of quick pics for iMovie tutorial videos by Apple most worth watching:
For book learners, my favorite resource is Safari Books Online, which gives users access to full texts of published books. If you are in an educational institution or corporate environment, check to see whether you have free access to the digitized books. For example, all Stanford users have free access using this link: http://proquest.safaribooksonline.com/?uicode=stanford. At Safari Books Online, a simple search for iMovie generated over 300 published titles, and my favorite guides in the Apple Training Series are available here. If you are someone who really wants to hold a physical book in your hand, you can buy the printed version of the Apple Training Series for iLife '09
which includes a source material DVD for use with the lessons.
For power users of iMovie '09, http://www.unlockingimovie.com is a great website for going deeper with iMovie '09. It basically shows you how to do things you would never think was possible in iMovie!
Finally, some people may be curious about how to decide when to switch over to a professional video editing package like Apple Final Cut Studio
. There are many good reasons to upgrade, and I'm an avid user of Final Cut Pro myself. My quick answer is this: When you start noticing the limitations of iMovie as they pertain to your specific project needs and your creative vision, that is probably the right time to consider an upgrade. For me, the limitations that finally convinced me to learn Final Cut Pro included my need for multiple audio and video tracks, multi-angle editing (where I need to synchronize video from several cameras for a real-time event like a sports or wedding video), advanced audio cleanup and sweetening tools, and keyframe animation. Those were my compelling needs. I'm sure you'll have your own if you need to create videos regularly.
Okay, that's all for now. If you haven't tried the latest version already, I recommend jumping right into iMovie '09 and having some fun! You can also check out one of the first movies I ever made using iMovie '09:
P.S. Did you find an iMovie resource that was truly amazing and would benefit future learners immensely? Please leave a comment and let me know!